Xplorer - Excel Workbook Explorer
When you deal with large workbooks, navigating to a particular worksheet can be a real hassle. The Xplorer tool provides a way to easily view and navigate through all the major elements of your open Excel workbooks. As the image below shows, the Xplorer has two panes. The top pane lists the open workbooks, and the bottom pane lists the items in the selected workbook, including the item Name, Type, and its Parent - all in sortable columns. Along with the Favorites tool, the Spreadspeed Xplorer helps you quickly find the Excel objects that you are looking for.
The types of Excel objects can be broken into two categories - workbook level items and worksheet level items - and are described in more detail below the image.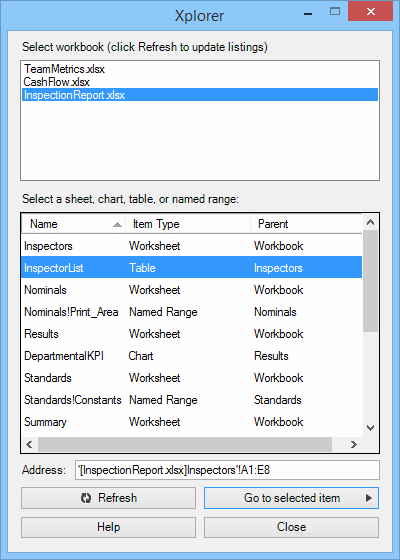 Workbook Level Items
Items that have their parent listed as "Workbook":
Worksheets
Chart Sheets
Workbook Scoped Named Ranges
Worksheet Level Items
Items that have their parent listed as one of the worksheet names:
Tables
Charts that are embedded in a worksheet
Worksheet Scoped Named Ranges
Usage
To navigate to an item, you can either double-click it in the listing, or select it and click the "Go to selected item" button. Worksheets that are hidden will be labeled as "(hidden)" after their name. Hidden worksheets and items on hidden worksheets must be unhidden in order to use Xplorer to navigate directly to them.