How to Speed-Up Loading
For most users, FlowBreeze is not the kind of tool that you use everyday. Every add-in that gets loaded into Excel can slow its startup. To speed things up, you can load FlowBreeze on demand, or unload it when not in use, via the COM Add-ins dialog in Excel, shown in the image below. Toggling the checkbox next to FlowBreeze will load and unload the add-in.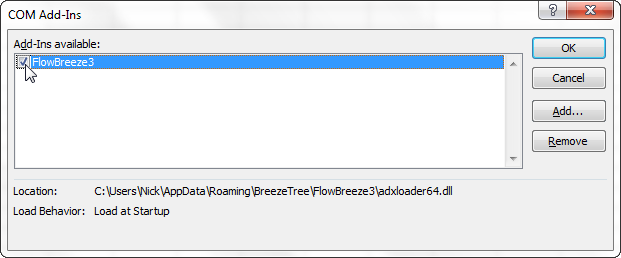 COM Add-ins Dialog
The instructions below show how to gain quick access to this dialog.
Click the down arrow next to the Quick Access Toolbar (QAT) and select "More Commands ...", as shown in the image below.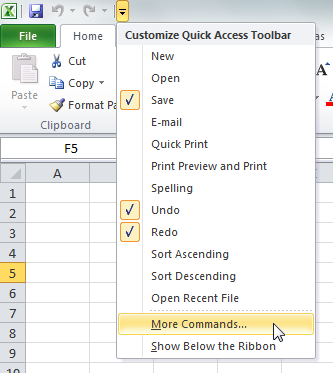 QAT - More Commands
Under "Choose commands from" select "All Commands" from the drop down list, and then scroll down and select the "COM Add-ins" item from the list, as shown below.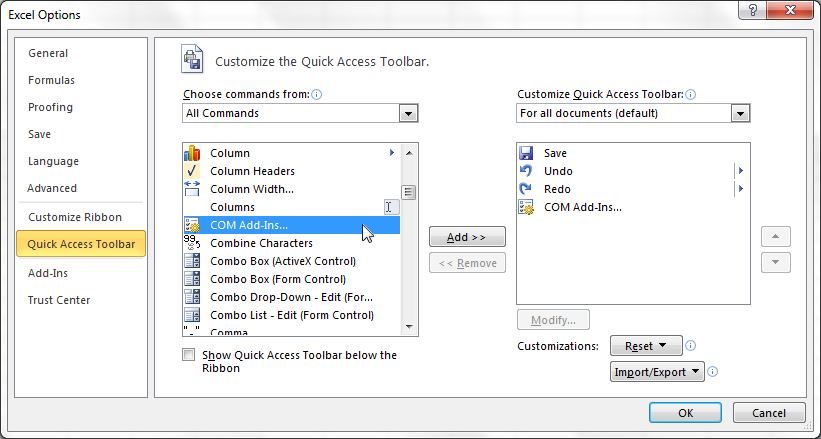 Adding COM Add-ins button to QAT
Click the Add button, and then OK to close.
The COM Add-ins button will now appear on your Quick Access Toolbar (QAT). Clicking it will open a dialog that lets you load or unload FlowBreeze (or any other COM add-in). When you're not using FlowBreeze, unloading it will probably let Excel startup faster, so this is a handy tool.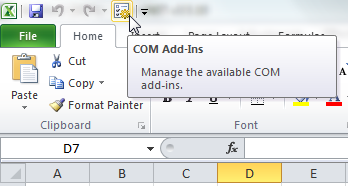 COM Add-in Button on QAT