Insert Decision Blocks
The Insert Decision Blocks tool allows you to quickly add a series of decision - side shape pairs to a flowchart, as shown in the Sample Output picture below.
Decision Block Entry
Decision text: The text to appear within the decision shape.
Side shape text: The text to appear in the shape added to the right side of the decision.
Add decision block: Clicking this will add the current entries to the list below.
Import from worksheet: For convenience, you can create the text for the entries on a worksheet and import them into the form.
Connector Labels
The text to appear in the right and bottom branch labels, next to the outgoing connectors from the decision.
Output Location
Cell: By default, this will be the cell selected when you open the form. You can change the location by clicking "Select ...".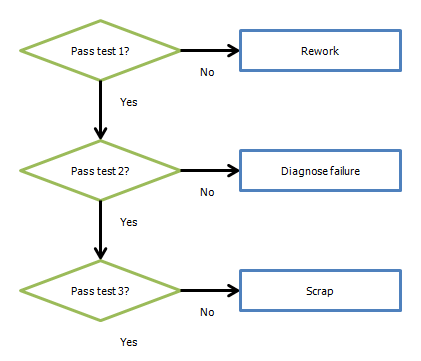 Sample Output